About George Samuel's Santa Cruz Acupuncture Clinic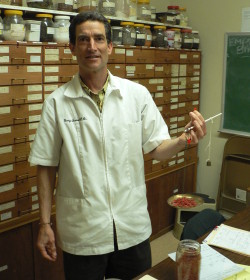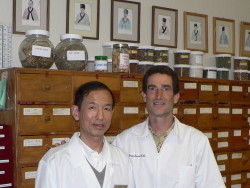 George Samuel, L.Ac., brings his study of 5,000 years of medical knowledge to the patients of his Santa Cruz acupuncture practice. Read on, for secrets will be revealed, and you might just come away with a new understanding of health and wellness.
Chinese medicine constitutes the world's oldest literate system of healthcare. The greatest minds in one of antiquity's most advanced civilizations have been dedicated to health and longevity in an unbroken chain for your benefit.
George Samuel, L.Ac. Has been blessed to study and practice with numerous masters of Asian healing arts. He has studied gynecology with Sharon Feng, sports medicine with Frank He, Pediatrics with Lucy Hu, Internal Medicine with Stephenie He, and Chinese Medical Herbology with Jeffrey Pang. Wallace Li, Kevin Zhu, Stephanie He and Peter H.Y. mentored George in the classic texts of Chinese medicine. He dedicated himself to in-depth study of Chinese food cures with Jeffrey Pang, and Chinese medical massage with Michael Alexander. He has studied Craniosacral therapy with John Upledger and Zero Balancing with Fritz Smith and holds a massage certificate from the Esalen Institute.
George helped open the Post Ranch Inn in 1992. In addition to practicing acupuncture at the Post Ranch, George taught massage and meditation, tai chi and yoga and worked as a hiking guide. He also helped introduce acupuncture to the Spa at Pebble Beach, offering both orthopedic and facial rejuvenation treatments. His work there was featured in Golf magazine.
Following the wildfires of 2008 George set up a community-style acupuncture clinic at the Big Sur Health Center. The clinic has been extremely well received, with abundant referrals from allopathic physicians. It continues under the direction of Sue Malinowski, L.Ac.
George came to Chinese medicine by way of Asian martial arts, which he began studying as a child. Since 1997 he has studied with sifu Jaime Marquez, a senior student of Grandmaster Doc-Fai Wong. Grandmaster's teacher's teacher, Hu Yuen Chou (a disciple of Yang Cheng-Fu), was fond of saying "there are no secrets, you just don't know until you practice." Wise words. . .the secret revealed. The journey of a thousand miles begins with a single step. Take that first step and call today. Make a commitment to reaping the time-tested benefits of Chinese medicine.

George has a wide background of study in Eastern health modalities, including martial arts, yoga, tai chi, and of course, acupuncture and herbal medicine.

Patients often remark that they are feeling improvement in all aspects of their health, not just the symptom that brought them in for treatment.